Annemarie Worst verlengt tot 2024 bij Team 777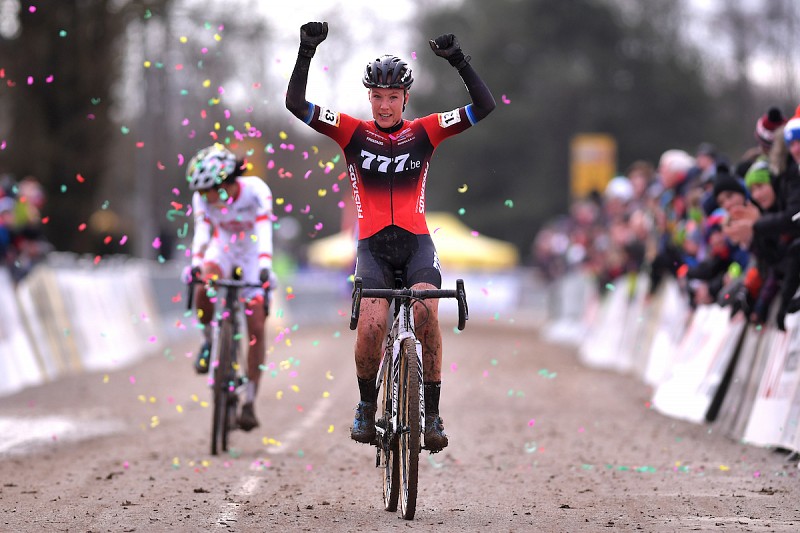 Annemarie Worst heeft haar contract bij Team 777 verlengd. De eindwinnares van het wereldbekerklassement en zilveren medaille winnares op het wereldkampioenschap in Dübendorf verlengt haar verblijf bij de ploeg tot het eind van het cross-seizoen 2023-2024.
"Uiteraard ben ik blij met deze verlenging. Dit toont aan dat de ploeg vertrouwen in mij heeft, maar ook zeker andersom. Ondanks de interesse van enkele andere teams was ik toch vastberaden om bij Team 777 te blijven, ik voel mij hier thuis. De verstandhouding en begeleiding is er optimaal en dat heeft reeds geresulteerd in mooie resultaten, met mijn Europese titel van 2018 en eindwinst in de wereldbeker vorig seizoen als absolute hoogtepunten", vertelt Worst.
"Toch voel ik dat ik met de begeleiding en kennis van het team nog stappen voorwaarts kan zetten. Ook de vrijheid en mogelijkheid om in de zomer wat te proeven van het mountainbiken en wegwielrennen, was één van de beslissende factoren."
- - -
The 2019-2020 overall World Cup winner and silver medalist at the World Championships in Dübendorf, Annemarie Worst, will stay with the Triple 7 until the end of the cyclocross season 2023-2024.
"Of course, I am really pleased with my contract prolongation. This indicates the trust from both sides. Despite the interest from other teams, I was determined to stay with Team 777, I feel at home in the team. The great teamwork and guidance here are excellent which leads to great results. My European Title in 2018 and the overall World Cup last season are definitely the highlights of my career so far. However, I feel that there is still a lot of room for improvement and I am sure I can achieve this together with the team. Also, the fact I can prepare my winter with mountain biking and road cycling in summer was a decisive factor."
Foto/Photo: Photopress.be